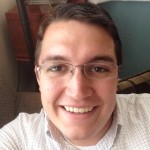 Pastor Daniel Weyand – I received my BA in Christian Ministries from SBU and my MDiv from Southwestern Theological Seminary. I am married to Heather and have three kids named Alethea, Karis, and Ezra. I absolutely love preaching God's Word and loving on God's people. It is my goal not to see a church with big numbers but to see a group of people with big hearts full of love for our God and Savior, Jesus Christ.
Worship Pastor Rocco Alimo – I lead worship anytime our church needs it. We sing a combination of hymns and worship songs every Sunday. If you or someone you know might want to sing a special, I'm the guy that you need to talk to.
Church Secretary Holly Hensley – I keep Pastor Daniel organized and serve the church in any way you can think of. I am the one who answers the phones, manages Sonrise Shoutout prayer requests, and prepares the bulletins. Whatever you need, I am there for you.
Youth Guy Jesse Weyand – I am a passionate leader who cares very much for the spiritual state of your kids. I am willing to have fun, be silly, and dig deep into the Word. Youth today need someone who is willing to invest in their lives and my wife and I are ready and willing to make that investment.